This article may contain affiliate links. Please read my disclosure policy for more information. All Bible quotations are from the New International Versions (NIV) unless otherwise stated. Full Bible copyright permission can be found here.
Are you looking for an impactful prayer for a Friday morning?
Friday is a particularly important and a somewhat exciting day for most of us.
It marks the end of a weekday as we get ready to embrace the weekend to spend time with family and friends. Most importantly, spend time with God and be thankful for all the good things He has done.
Friday morning prayers are great because we are not only thanking God for the good weekday we've had, but also for the weekend that's about to come.
Prayer for Friday
These Friday morning prayers below are created to help you pray and thank God for giving us this day.
Use these prayers to ask God for guidance to differentiate right from wrong and to seek grace in everything you do.
The biggest challenge most of us face is not knowing how to start a prayer during our time with God.
This is because we are often searching for the right words to use to make our prayer effective. But the truth is prayer is really a simple conversation we have with God.
There is no right or wrong way of praying.
God hears and answers prayers no matter how long or how short it is, as long as we trust in His ways and have enough faith to submit our worries to Him.
After getting through a long week, let us thank God together for the week that has gone and for the week that is to come.
Are you ready to enter into Gods presence with theses powerful Friday morning prayers?
Friday Morning Prayers
Friday morning prayer for strength
Dear God, thank You for this wonderful Friday morning and the strength You have given me to start this new day. Father God, I ask that You guide me into doing what is right for the Kingdom and not go astray. Be my guiding light that I may walk in the path of righteousness and do what pleases You. In Jesus name I pray. Amen.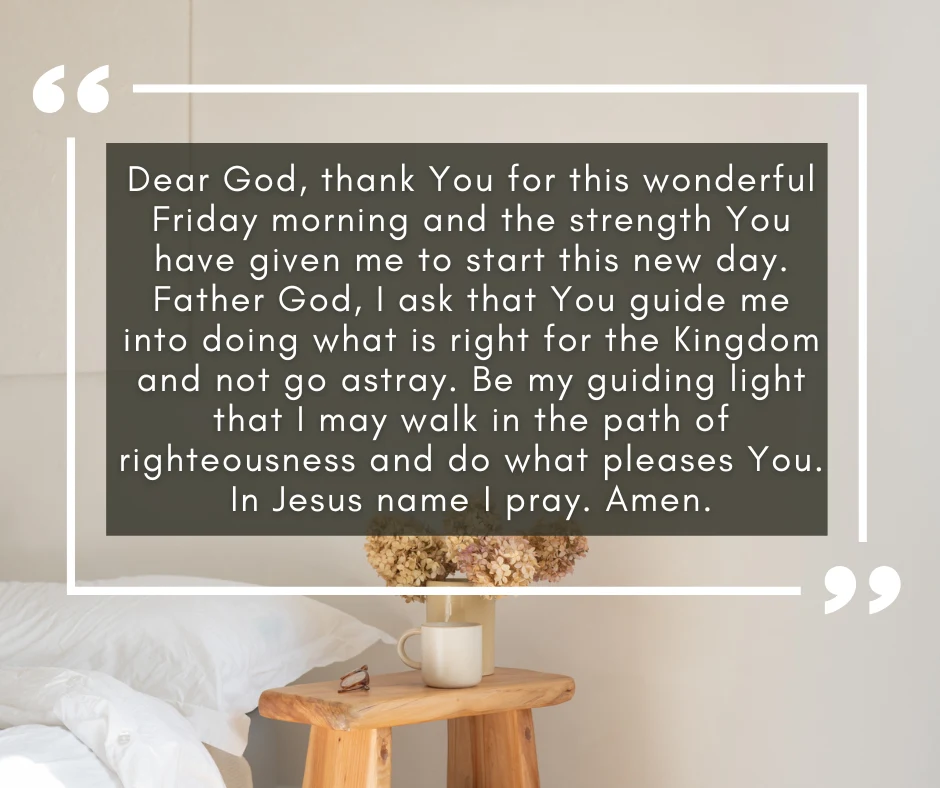 Short Friday morning prayer
Heavenly Father, I thank You for everyday of the week that You allow me to live my best life. I especially thank You this Friday for all the good things You have done for me. You have provided me and my family with everything we need and have shown us what true love means. I am always grateful for Your never ending love and kindness, and pray that I will always live by Your word. Amen
Friday morning prayer for protection
Dear God, let my heart and mind be filled with Your Holy word, and I pray that I never feel lonely. I humbly ask that Your anointing on my life never fades away and that I always come to You when I am afraid to do anything on my own. Guide me, Father, into knowing that You are always there for me, protecting me from all the dangers of the world. I thank You God for Your blessings and powerful presence in my life. Amen.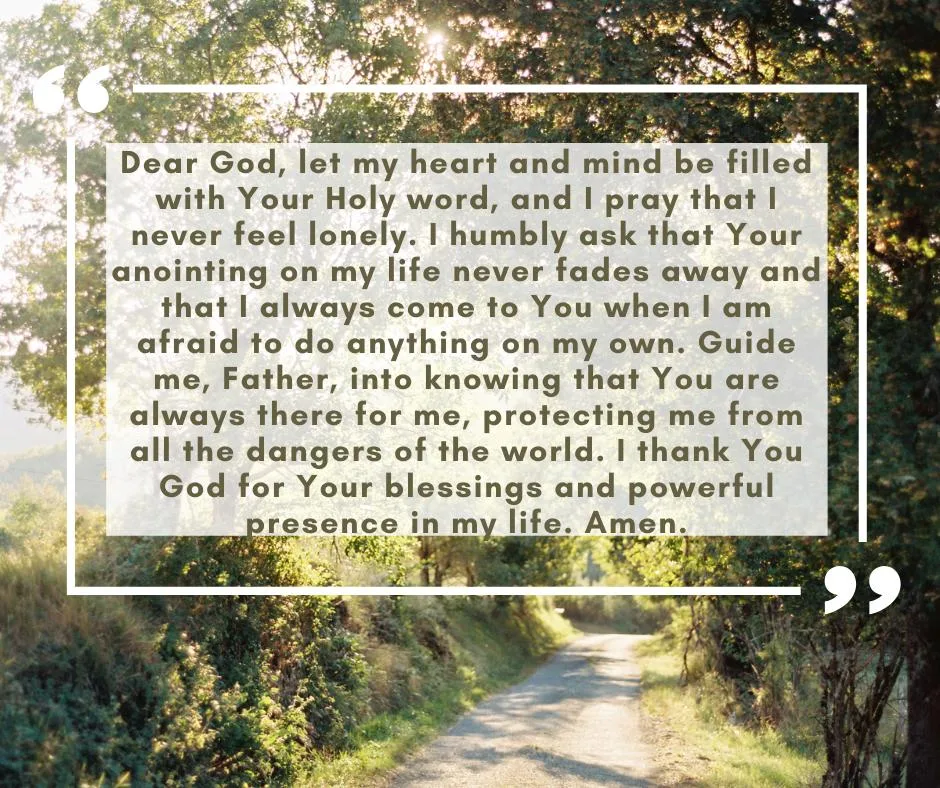 Friday morning prayer for being thankful
Thank You Father for everything You have done for me. My family, my home, my job and my friends. I know that You are always with me and I thank You for walking with me through all my good and bad times. God, everything that I am and that I have is from You and not my works and I am humbled and grateful for it all. Amen.
Friday morning prayer of faith
Heavenly Father, there is no one like You. You are a mighty, powerful and ever-present God, who always shows up at the right time to help me through all my troubles. I pray this Friday morning, that my faith in You never diminishes and that I am always grateful for everything You have breathed over my life. Amen.
Friday morning prayer for wisdom
Lord God, I am praying today that You will give me the ability to follow Your Holy ways and be an example to others, that they may follow Jesus. I pray that I never give in to temptation or be misguided into believing what is wrong. Dear God, give me the wisdom to only see and believe what the bible teaches and follow it with all my strength. In Jesus name I pray. Amen.
Friday morning prayer for being grateful
Lord Jesus, I am grateful for all the good things You have done for me. Thank You for being the ultimate sacrifice for my sins and for Your continual grace. Fill me with the Holy Spirit and wash away my sins with the blood of the lamb. Bless me and my family, so that we live our lives in accordance with the Holy scriptures. I pray this prayer in Jesus's precious and Holy name. Amen.
Friday morning prayer for the anxious heart
Heavenly Father as I enter into this new day this Friday morning, I pray that You calm my anxiety of not knowing what the day might bring. I believe if You are with me today, I can face any challenge that comes against me. You are all I need God and I thank You for Your mighty presence in my life. Amen.
Friday morning prayer for school
Father God, I come before You today to enter into Your Holy presence before I start school. Cover me with Your wings of protection and keep me safe from any negative influence in my life. Lord, I can do nothing without You and I pray that You are there with me every second of my day in school. Guide me into choosing the right friends and doing what's right. Keep my mind calm, clear and focussed on what's right. I pray this prayer in Jesus name. Amen.
Friday morning prayer for family
Lord Jesus I pray for health and wisdom for our family. Cover us in Your blanket of love that we may share with same love with each other. Fill us with the fruits of the Holy Spirit that we may follow in Your ways of peace, joy, love, kindness and faithfulness. God, there is none like You and we as a family commit our lives to following your ways. We are thankful for all Your good gifts in our lives and are grateful for having each other. Amen.
Friday morning prayer for courage
Lord God, as I face this new day, I pray that you give me the courage to overcome any obstacles that come my way. I know we live in a world filled with many hurdles, but I believe these challenges make me a stronger person in Christ. Give me a clear mind when I am at crossroads, and help me make the right decisions. In Jesus name I pray. Amen.
Friday prayers for friends
Blessed God, I pray this morning for the wonderful friends that surround my life. I thank You for bringing these blessed people into my life, and giving me the joy of being surrounded by love. Heavenly Father, I ask You today to bless my friends and their families. Grant them peace, joy and happiness, and deliver them from all evil and dangers they may face. I pray that they are never alone, and are always covered in Your blanket of grace and protection. Amen.
Friday morning prayer for forgiveness
Lord, I thank You for the gift of prayer, so I can talk to You and ask You for forgiveness. I humble myself before You and ask you to forgive my sins and relieve me of my sins. Sweet Jesus, thank You for giving up Your life for me on the cross, so that my sins are forgiven. By Your grace, may I be made whole. I receive Your forgiveness by the power of the Holy Spirit. Amen.
Friday Morning Prayer Conclusion
I hope these Friday morning prayers be a blessing to you and your loved ones, that they may experience the guidance of the Holy Spirit in everything they (you) do. Prayer is our gateway to heaven and a way of listening and following Gods plan for our lives. Have a blessed Friday.
Related posts: